Aren't you tired to waste time searching for high-quality pictures and graphics…
… and invariably ending up not totally satisfied?
Wouldn't be good to have access to 50,000 HD photos and graphics, unlimited templates and the ability to quickly customize them?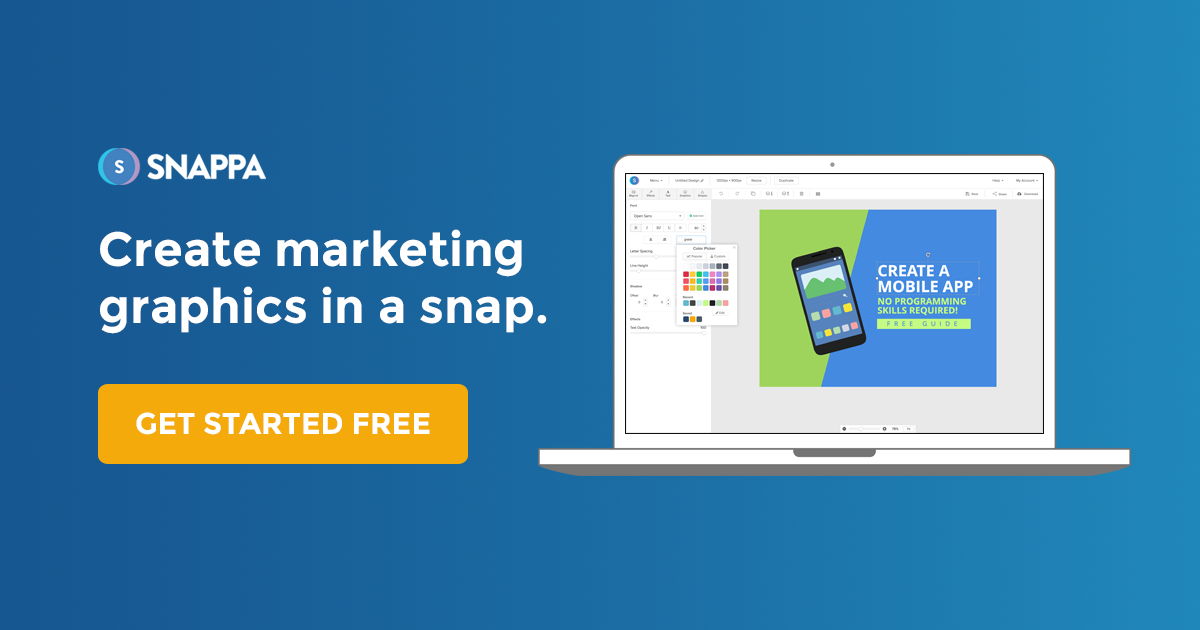 Snappa, The Best Online Graphic Editor, put together a massive amount of quality pictures and graphics that you can manipulate depending on your needs;
It allows you to create the perfect visuals you need in a matter of a minute;
What I like
It's an easy-to-use application that makes you save loads of time,
Don't require any graphic design skills to create beautiful visuals; if you can drag and drop and move and slide you're good to go;
Snappa has templates and formats for anything: social media post, blogging, infographics, ads;
Resizing is a no-brainer;
Not too much to say about this graphic design tool; it's easy and straightforward, no skills needed, the price is fair and
good support is available;
Watch how easy is to use Snappa
What I don't like
You can change the property of the elements only one per time,
There is no way to organize the pictures you upload the way you want, neither you can create folders to group them up;
If I was on the free plan, I wouldn't be too happy because it is limited to only 2 social accounts and 5 uploads per month;
Alternatives
The alternative product to Snappa is Canva;
The logic behind and the price is very similar so, check which templates and photo stock you prefer between them,
I stick with Snappa, it's more responsive and better structured when it's time to share with your social media,
The buffer integration a big plus.
What do you think of Snappa? Have you seen how many cool graphics it has? Do you need any help with it?
Just let me know I'll be glad to help you out!
Share the post and join our newsletter, crazy gifts are waiting for our subscribers!
Summary
Reviewer
Review Date
Reviewed Item
Snappa Online Graphic Editor
Author Rating